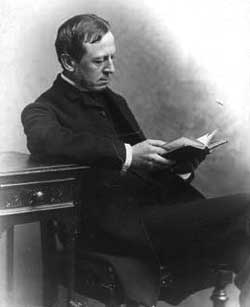 Today the church remembers William Reed Huntington, Priest, 1909.
If any one man could be seen as typifying the spirit of the Episcopal Church in the nineteenth century, it would probably be W. R. Huntington, a priest from Massachusetts who was rector of Grace Church, New York City, for more than twenty-five years. Dr. Huntington was a leader in the House of Deputies for thirteen consecutive General Conventions (1871-1907). He was one of the designers of
The Book of Common Prayer
revision of 1892 and he led the movement to revive the order of deaconesses in the Episcopal Church. He profoundly influenced the course of ecumenical relations with his book
The Church Idea: An Essay Toward Unity
, which advanced the concept of a reunion of the universal church on the basis of mutual acceptance of the scriptures, the creeds, the sacraments, and the historic episcopate. This became the famous Lambeth Quadrilateral and the foundation on which Anglican discussions of unity with other Christian bodies have taken place the world over. Dr. Huntington, living in a time that pitted religion and science against one another, said, "The theologians and naturalists are allies. Truth is truth, however and whencesoever obtained, and we can never have occasion to be either afraid of it or unthankful for it."
May we, like William, seek renewal and clarity in your church, O Christ. Amen.
Read the Wikipedia article here.
O Lord our God, we thank you for instilling in the heart of your servant William Reed Huntington a fervent love for your Church and its mission in the world; and we pray that, with unflagging faith in your promises, we may make known to all people your blessed gift of eternal life; through Jesus Christ our Lord, who lives and reigns with you and the Holy Spirit, one God, for ever and ever. Amen.